February 11, 2022
Folks call them "little brown jobs," or LBJs for short. They're the sparrows, tiny birds you get a glimpse of as they zip across your yard or pop up momentarily as you walk across a field of prairie grass. They seem drab, largely indistinguishable from one another. But zoom in with your binoculars, or grab a shot with your camera, and you see an amazing variety of plumage hues and patterns, offset by striking bill and leg colors.
On Galveston Island we can see as many as 17 sparrow species, depending on the season and where you are looking. Of these, we are fortunate to host three of the most distinctive — the Le Conte's Sparrow, the Nelson's Sparrow, and the Seaside Sparrow.  The winter months are a great time to see them, as there is less vegetation to hide in, and their cold-weather food requirements trigger more activity. All of them are shy, beautiful little birds, but a little effort expended in finding them can be richly rewarded.
The Le Conte's Sparrow and the Nelson's Sparrow are visitors here in fall and winter, arriving in October and staying until April, just like the snowbirds who come in their RVs in search of mild winter weather.  As the weather warms, the Le Conte's and Nelson's sparrows migrate to their traditional breeding grounds in the northern states and Canada. Our friend the Seaside Sparrow, unlike the other two, stays here year round and has adapted to all the changing seasons.
The subtle Le Conte's Sparrow was named by John James Audubon in 1843 after Doctor Le Conte, a naturalist and friend of his. Until then, it was a little-noticed and largely anonymous species. This sparrow sports a dazzling palette of colors – orange/gold on the face and breast, black streaks on the crown, flanks, and back, a clear white belly, and purplish-gray streaks on the back. Birders find them by walking across a field and flushing them briefly above the grass. I prefer to find them by walking slowly on the trails where they are being seen, while softly pishing to induce them to pop up into sight.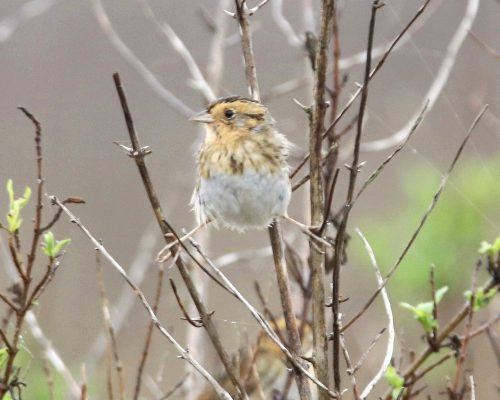 The Nelson's Sparrow is named after Edward William Nelson, an early 20th century naturalist who conducted field surveys for the U.S. Department of Agriculture. They are, for me, the most colorful of our winter sparrows.  It has shades of brown, gray, white, cream and orange, with an especially bright orange face. When you see one in the marsh, that face and creamy white breast make them easily recognizable. This bird likes muddy ground, close to the edge of salt water marshes.  They run about in the marsh grass like mice, and will fly for a short distance when flushed. My favorite place to find them is at the 17th Street jetty in Port Bolivar, just a short ferry ride across the Houston ship channel. They also are found at Galveston Island State Park and on Bob and Tuna roads on the Bolivar Peninsula. Like its cousin the Le Conte's sparrow, they leave here in April and head to their breeding grounds far north.
Last, but not least, of our winter sparrows is the Seaside Sparrow. They are found in salt marshes almost exclusively. They are a larger sparrow, with brown, rust and gray tones, and their most distinctive field marks are a bright yellow spot in front of the eyes and a clean white throat with dark lines on either side. Some people mistake them for White-Throated Sparrows, but their habitats are quite different. A few years ago, I photographed one singing out in the open at Anahuac National Wildlife Refuge, across Galveston Bay. They rarely appear in the open, but springtime increases in testosterone prompts these birds to be bolder in their behavior.
The Seaside Sparrow is found here year-round. I found five of them a few days ago at our state park. I was walking my dog along the edge of the paved road and they began popping up from the tall grass, one after another. It took many years of birding before I found and began to recognize them. Now they have become a familiar sight, one that I especially treasure during our chilly, overcast winter months.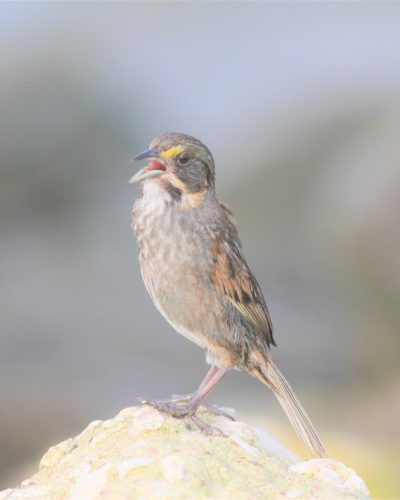 Little brown jobs? Not by a long shot. Enjoy the strutting, colorful antics of our winter time sparrows.