June 1, 2021
by Sarah Bordelon
Coastal dunes are ecosystems often overlooked and their values go unnoticed to the average beach goer. However, when imagining a perfect coastal seascape one can quickly identify an entrance of rolling sand dunes with tall rustling grasses inviting you to the shoreline. Perhaps they host a variety of animals such as small birds hopping between the brush enjoying the salty air, a shy and elusive crab picking at the sand, or maybe even seashells of the small organisms that populate the shores. This idyllic coastal landscape is not only beautiful, it's also incredibly functional to our own homes and marine resources.
Let's think about the system as a whole first before we can identify specific functions. Galveston is a barrier island, meaning by the very nature of its existence it is formed by transient waves pushing, eroding, and depositing sediments onto a chain of sand dunes in front of the mainland. As these winds and waves shift to shape the shoreline, these landforms can move, grow, or even disappear altogether. We may be familiar with this here in Galveston as many beach renourishment projects have startled both tourists and residents. These sands that build and create Galveston are constantly at the mercy of the volatile forces of the Atlantic and the hurricanes it seems to attract.
Sand dunes are the first line of defense on not only keeping the beach in place but also preventing additional storm surge and high waves from flooding our homes and businesses. When these dune lines are weakened, the loss of life and property during storms cannot be overstated. I'd hope that every resident hasn't experienced this devastation, but unfortunately Hurricanes Ike and Harvey are visceral examples of the destruction these storms can leave in their wake. As a barrier to these forces of wind and waves, sand dunes are the least expensive and most efficient defense against storm-surge flooding and beach erosion (Texas General Land Office, 2005).
While these defensive ecosystems are of incredible value both scenically and economically, they are in danger of being lost. Heavy recreational use of the beach can lead to the deterioration of the dune systems. This is where every resident, tourist, adult, and child can be a part of the change in protecting these dunes. When we visit the beach and notice these sand dunes, the simple act of walking around them to a dune walkover, designated opening, or pathway can make all the difference. If every person visiting the beach didn't tread through these carefully built and vegetated landscapes, the dune systems in Galveston could be fully functioning natural infrastructure against the waves and wind. When we trample and disturb these dunes, we kill the vegetation that secures the sand in place and when that happens the sand is blown or washed away. Sand that has taken years to accumulate, deposit, and grow lush grasses and plants that thrive in these environments. Plowing through these dunes with beach vehicles, lugging beach bags and coolers through them, and littering them with plastics and trash are resulting in expensive post-disaster recovery, lost ecosystem functions, and deterioration of Galveston's beautiful coastal scenery. I hope through this article we can all appreciate and respect these landforms a little better and spread the word about the value of protecting these dune systems.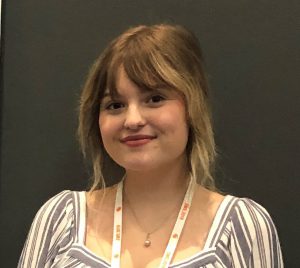 Sarah is a Masters of Marine Resource Management student at Texas A&M University at Galveston. She graduated Summa Cum Laude from TAMUG with her bachelor's in Ocean and Coastal Resources and did her undergraduate research on wetlands and their ability to reduce FEMA disaster aid funding in coastal counties in the Gulf of Mexico following hurricanes.