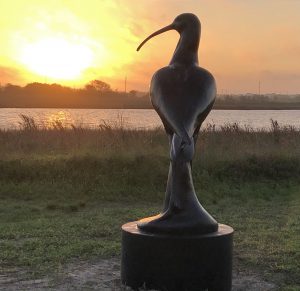 A six-foot permanent sculpture of the elegant Eskimo Curlew, commissioned by Galveston Island Nature Tourism Council, and a special exhibit of five extinct birds, all part of The Lost Bird Project by Todd McGrain, recently were installed in Galveston Island State Park and the gardens of The Bryan Museum.
The bronze Eskimo Curlew is the sixth sculpture of The Lost Bird Project. The five large statues at the museum are representative of the other permanent Lost Bird Project sculptures located throughout North America. Galveston Island Nature Tourism Council, Houston Audubon, and The Bryan Museum have partnered to bring the exhibit to the island with generous support from John P. McGovern Foundation, Bromberg Charitable Trust Fund, Trull Foundation, and West Galveston Island Property Owners Association.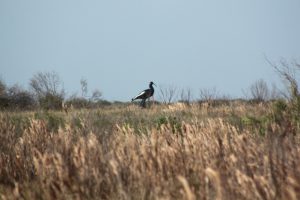 Each Lost Bird Project memorial is permanently installed near the last sighting of the bird. The last fully documented North American sighting of the Eskimo Curlew was in west Galveston in 1962, according to the Texas Bird Records Committee of the Texas Ornithological Society.